Confucius Institute (classroom)
Confucius Institute (CI) at University of Wales Trinity Saint David
Visits:
Posted: 23 04,2021
The Confucius Institute at the University of Wales Trinity Saint David, the first of its kind in Wales, was established in March 2007 on Lampeter campus.
In March 13th, 2007, Beijing Union University and University of Wales Trinity Saint David signed a joint construction agreement about Confucius Institute
Following more than ten years of development, and influence, a new branch office, a language center and a Chinese Sunday School were opened in September 2016 on the Swansea (the second largest city in Wales) campuses.
Prince Charles and Ambassador Liu Xiaoming unveiled the Holland Frey Confucius class
The CI has five attached Confucius Classrooms at Llandovery College, Penglais school, Dyffyn Taf school, Bryn Tawe school and Crickhowell school and more cooperation with schools across southeast Wales.
The CI of the University of Wales Trinity Saint David (UWTSD) has made great contributions to promoting the Chinese language and to the communication between China and the UK.
Confucius class
In May 2017, Beijing Union University (BUU) celebrated the 10th anniversary of the founding of the CI. The celebration was attended by, among others, leaders from the Confucius Institute China Headquarters, the UWTSD and BUU.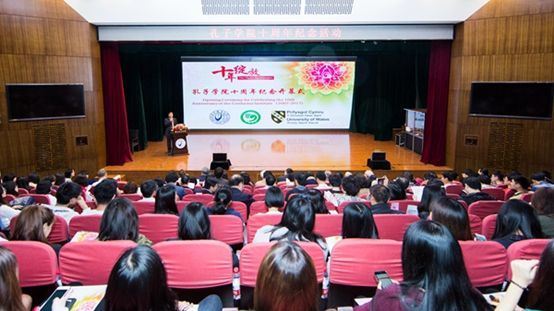 The Scene
In March 2007, BUU cooperated with the University of Wales Lampeter in establishing the first Confucius Institute in Wales. Today, Lampeter has developed into the UWTSD. During the past decade, the CI China has established the first Confucius Classroom which was visited by (the then) Prince Charles. The first summer camp went from Wales to BUU. When the first Community Chinese School was founded in Wales there was one teacher and several students in the Confucius Classroom. Later, there were five Confucius Classrooms with 1,652 registered students. Now, there are more than 15,000 students studying in the Confucius Classrooms, and a total of nearly 38,000 people have participated in the Chinese cultural activities organized by the CI. By using language courses, cultural experiences, seminars, exhibitions, performances, summer camps, and community activities, the CI has built a bridge of communication between the Chinese and British peoples, promoting the exchanges and mutual learning between China and the UK.
That day, the guests took part in a series of Chinese cultural campus experience activities held by BUU. The teachers and students majoring in art and history showed their unique skills related to paper cutting, rabbit god drawing, facial makeup, making dough figurines, woodblock printing and clay teapot making. The teachers and students majoring in catering provided"Beijing snacks" by making traditional food such as caramel treats and sweet rice rolls on campus; some other teachers and students played the konghou, an ancient plucked stringed instrument, showing the strong "Chinese charm" to all those present. The "Treasure of Beijing—Art Exhibition on the 10th Anniversary of the Founding of Confucius Institute" and "Picture Exhibition on the 10th Anniversary of the Founding of Confucius Institute" were held during the celebration.
Guests at "Treasure of Beijing—Art Exhibition on the 10th Anniversary of the Founding of Confucius Institute"