"Study at BUU"– Welcomes its first International Students since the pandemic
Visits:
Source:Division of International Exchange and Cooperation
Author:
Posted: 21 09,2023
BUU rolled out the red carpet earlier this month to welcome the arrival of more than 90 international students - the first since the pandemic – from various countries around the world.
Four colleges will host the new arrivals - the Business College, the Teachers' College, the Management College and the Tourism College – who are from Russia, Japan, Thailand, Turkmenistan and beyond.
New Student Welcome and Airport Pickup
Dedicated personnel, vehicles were provided, and dozens of Chinese students volunteered to co-ordinate the smooth transportation of the guests from both Beijing Capital International Airport and Beijing Daxing International Airport. A "Welcome to Beijing Union University" banner made the international students feel warmly welcomed.
Registration and Orientation
Registration day saw bilingual signs placed throughout the student hall, and staff were on-hand to respond to specific tasks. Multilingual volunteers patiently guided new students through the registration process, ensuring a smooth and orderly experience. A student handbook was distributed to help the new arrivals adapt quickly to life in Beijing.
Following on-site guidance, new international students completed the registration process, which included information verification, dormitory assignments, and insurance purchase.
Vice President Chang Hongmei visited the registration site to check on the progress and had friendly conversations with the new students. She also met with the Deputy Dean and leading faculty members from Thailand's Burapha University School of Education, who had brought students to Beijing. They discussed cooperation between the two universities and future student exchanges.
Getting Acquainted with Campus Life
After completing registration and orientation, student volunteers from the Colleges of Urban Rail Transit and Logistics, the Management College, and the Tourism College, assisted international students with tasks like obtaining SIM cards, opening bank accounts, setting up mobile payment services, and guiding them to become familiar with the campus. This allowed the international students to feel the warmth of BJUU.
The international students strolled through the campus with excitement and joy, taking in the sights and occasionally capturing moments with their phones. The presence of these curious and friendly "foreign faces" added a vibrant touch to BUU's international atmosphere.
Each college presented their newly arrived international students with creative T-shirts, fostering a sense of belonging. Donning their customized T-shirts, international students engaged in face-to-face interactions with teachers and fellow students, enhancing their appreciation for the beauty of their study-abroad experience.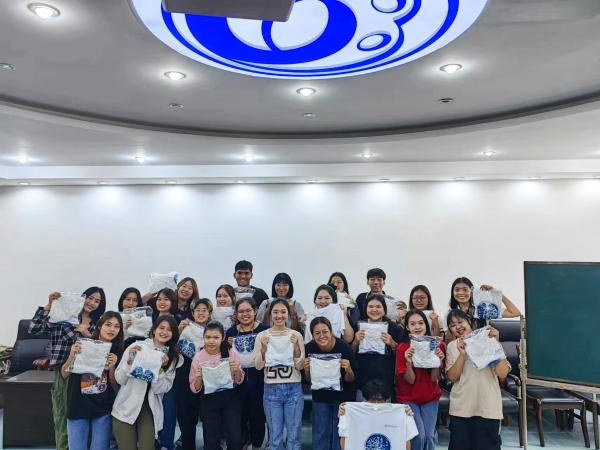 In this golden autumn season, international students at BUU will embark on a fresh journey of learning, exploring China's rich history, culture, and modern development. It is hoped that through "Study at BJUU", they will become ambassadors of friendship between China and their respective countries and bridges for communication and collaboration. May the young talents from various nations shine on BUU's open and inclusive international platform, achieve outstanding results, and together, create a bright future.
Text by: Tian Pei, Liu Dongqing
Photo by: Shi Yangjian, Ma Panchao, Tian Pei, Liu Dongqing
Edit by Rees-Farrell Peter