Beijing Union University excels at 2023 CIFTIS
Visits:
Source:Division of International Exchange and Cooperation
Author:
Posted: 14 09,2023
BUU was recognized as an 'outstanding exhibitor' at this year's China International Fair for Trade in Services, or CIFTIS, held in the first week of September.
BUU participated in 2023 CIFTIS
Through both online and offline exhibition halls, specialized forums, and conducting cooperation negotiations, BUU focused on international education cooperation, Sino-foreign cooperative education, digital currency technology, it also showcased a series of new achievements while emphasizing its role in serving the development of the capital.
BUU participated Education Service Exhibition of 2023 CIFTIS
Showcasing the new achievements of serving capital's development
BUU had Participated in the Education Service Special Exhibition for four consecutive years. This is year, BUU set up an offline booth at the Fair's Shougang Park Hall No. 5, using informative display boards, distributing promotional materials, and providing on-site consultations. The university's development strategy of "Academic-based, Talent-driven, Openness-directed, and Culture-nourished," was highlighted. During the exhibition, numerous visitors stopped by our booth, read the displays, collected promotional materials, and inquired in detail about our university's educational activities.
Professors from College of Urban Rail Transit and Logistics are available to answer inquiries from the audience

Cultivating New Business Talent and promoting Beijing's Socioeconomic Progress
The "2023 Digital Renminbi Technology and Application Forum" held on September 5th discussed the cultivation of new business talents and the socioeconomic development of the capital and attracted participation from many industry experts. At the forum, Chu Guoqing, Secretary of the University's Party Committee, said: "This forum aims to better understand the theory and practice of digital Renminbi, track and produce cutting-edge research results in the digital economy."
Chu Guoqing giving a speech
During the forum, the "Blue Book on the Future Development of Digital Renminbi" was released, and BUU, in collaboration with the China Bank, presented the results of their cooperation on digital Renminbi. A signing ceremony for a memorandum of understanding on deepening cooperation in digital Renminbi was also held.
The Release Ceremony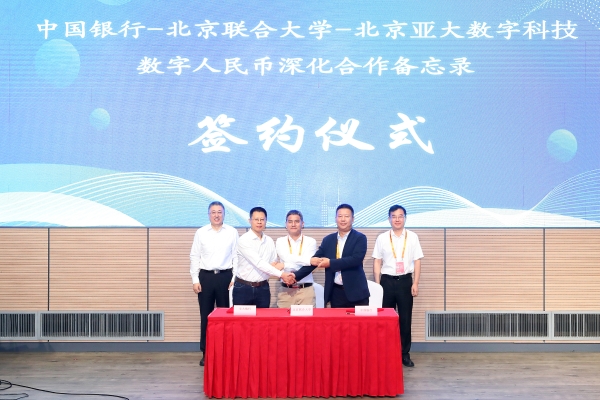 The signing ceremony
Following the forum, participants visited the Digital Renminbi Avenue 3.0, experiencing the convenience and security of digital Renminbi services.
Participants visited the Digital Renminbi Avenue 3.0
BUU has awarded the title of "Outstanding Exhibitor" at the 2023 CIFTIS
During this year's CIFTIS, BUU also held negotiations with education service providers, resulting in the conclusion of one project with a transaction amount exceeding 4.58 million yuan.
Photo by Jiang Yuanshan
Edit by Rees-Farrell Peter