International cooperation with Hungary's Budapest City University looks set to increase
Visits:
Source:Division of International exchange and coorperation
Author:
Posted: 14 05,2023
An academic delegation from the Budapest Metropolitan University, Hungary, led by Professor Bálint Bachmann, President, were the guests of honour at a meeting earlier this month when they were welcomed by BUU's Vice President Chang HongMei.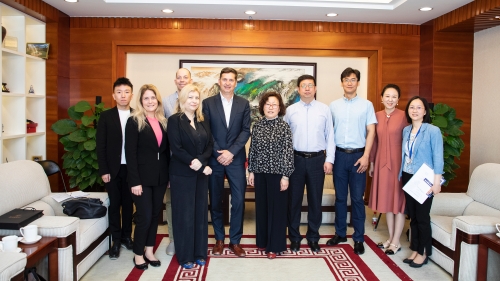 She warmly welcomed the president and his entourage. "I hope we can carry out multi-level inter-university cooperation with Budapest Metropolitan University," she said. "I cordially invite teachers and students from Budapest to work and study with us in Beijing."
President Bachmann thanked her for the warm reception and said that he would actively promote cooperation between the two universities in the fields of teacher-student exchanges and scientific research cooperation, and jointly cultivate outstanding talents with international perspectives.
Budapest Metropolitan University is one of the largest private universities in Hungary and Central Europe, located in the capital, it has four campuses and nine secondary colleges. At present, there are about 8,000 students in the school, including about 500 international students. It uses the EU ECTS credit system.
Colleagues from Division of International Exchange and Cooperation, Business College and College of Art also attended the meeting. After the meeting, President Bachmann and his team visited the library, the handicraft museum and laboratories of College of Art.
TEXT: He Yaling