New co-operation deal strengthens Sino-Canadian ties
Visits:
Source:Division of International Exchange and Cooperation
Author:
Posted: 14 11,2023
BUU's Vice President Chang Hongmei met with an academic delegation from six Canadian Universities in October to promote future collaborations.
The twenty international visitors included representatives from Cape Breton University, Queen's University, Seneca College, and Centennial College.
Welcoming the delegation Chang Hongmei said: "I hope we can increase exchange and cooperation with our friends in these Canadian universities."
Jeff Zhang, the Director of the Central Region of the Canada China Trade Council, echoed her sentiments. "Our delegation has visited several universities in Beijing to promote Sino-Canadian higher education exchange and cooperation, with the aim of fostering cultural exchanges between the two countries."
Discussions were held between BUU and the visiting Canadian institutions on student exchange programs, faculty research collaborations, and other areas. After the meeting, Chang Hongmei signed a cooperation agreement with John MacKinnon, Assistant Vice President of Cape Breton University.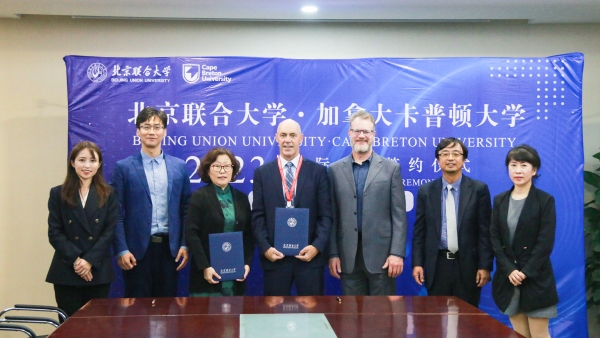 Officials from the Division of International Exchange and Cooperation, Business College, Tourism College, Management College, and College of Arts also attended the discussions.
Text by: He Yaling
Edit by Rees-Farrell Peter