BUU celebrates its history and looks forward to its future success
Visits:
Source:Convergence Media Center
Author:
Posted: 24 10,2023
Senior party and government officials, top academics, business supporters and international colleagues came together to celebrate BUU's 45th anniversary at a grand ceremony in October.
Wang Dapin, Deputy Secretary of Education Work Committee of Beijing Municipal Committee, joined more than 1,500 representatives, including former leaders and staff, to mark this significant milestone in Beijing Union University's distinguished history.
The campus was adorned with colorful flags, and the atmosphere was lively and festive as representatives from more than 20 universities, including Peking University, Beijing University of Science and Technology, Beijing University of Technology, and others, as well as representatives from more than 60 departments including the Beijing Municipal People's Government Advisory Office, Beijing Municipal Archives, and Beijing Capital Tourism Group Limited, came together for the ceremony.
Wang Dapin warmly congratulated Beijing Union University on its 45th anniversary. He said: "BUU has undertaken a crucial mission in serving the development of the capital. I hope this will continue as we all focus on meeting the needs of the national strategic development and the socioeconomic progress of Beijing and produce more high-quality applied talents."
Chu Guoqing, the Secretary of the Party Committee of BUU said: "BUU has motivated generations of Beijing Union University students and staff to strive for excellence and scale new heights. Our 45-year journey marks a significant chapter in the university's history. Furthermore, we have a clear direction for development, a well-defined strategy, and strong momentum. We are now embarking on a new journey to become an internationally renowned and domestically first-class high-level applied university. I urge you all to make even greater achievements on this path."
Gu Tao, Deputy Secretary of the Party Committee of Peking University, congratulated BUU he said: "Beijing Union University can achieve greater success in the future and make a bigger contribution to the nation and society."
Representatives from collaborative partners, such as Huang Huaipeng, Vice Chairman of China Railway Material Group Co., Ltd., reviewed the history of cooperation between the two sides and wished BUU greater contributions to higher education and social development.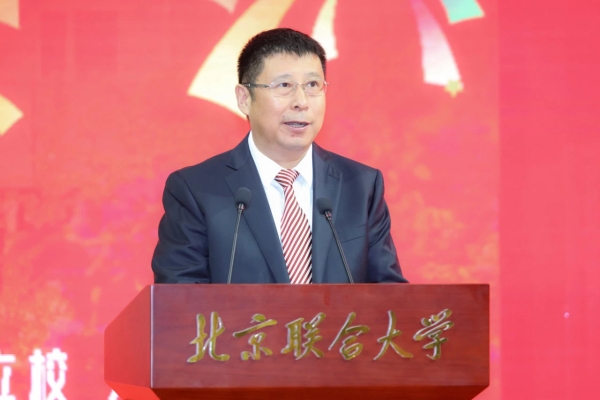 Alumni representative Zhao Hongye, Executive Deputy General Manager of Beijing Fashion Holdings Co., Ltd., shared memories of their campus life and expressed gratitude and blessings on behalf of the alumni. While International universities like the Russian University of Transport, Ural State University of Railway Transport, University of Wales Trinity Saint David, and University of Donja Gorica of Montenegro sent video messages, extending their warm wishes for the development of Beijing Union University.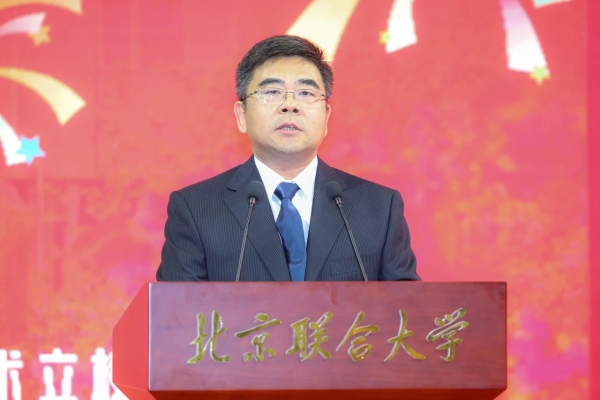 Teacher representative Liu Shiyuan and student representative Nie Xinran expressed their wishes for the 45th anniversary of Beijing Union University.
BUU's president Lei Xingshan presided over the ceremony. He pointed out that from 1978 to 2023, Beijing Union University has written a brilliant chapter in the development of an application-oriented university filled with mission and dreams, progress and self-improvement, perseverance, and innovation. He expressed that the road ahead is long, and Beijing Union University must regroup and set out again.
During the ceremony, students presented flowers to ten representatives of the university's veterans and expressed gratitude for their contributions. Flowers were also presented to representatives of nine enterprises that have generously supported the development of Beijing Union University.
During the ceremony, the university launched the "Smart Alumni+" information platform and the new official website.
Having opened with the majestic national anthem, the ceremony concluded with a choral rendition of "Chasing Dreams in Youth."
Edit by Rees-Farrell Peter